Medikal's Twitter account suspended after impersonating Prez Akufo-Addo
Ghanaian rapper Medikal has had his Twitter account suspended moments after using it to impersonate President Akufo-Addo.
The "Omo Ada" hitmaker breached the new Twitter policy against impersonation and the running of parody accounts by making tangible changes to his account.
Medikal changed his name to "Mr President" and also used the President's picture as his official image on the platform.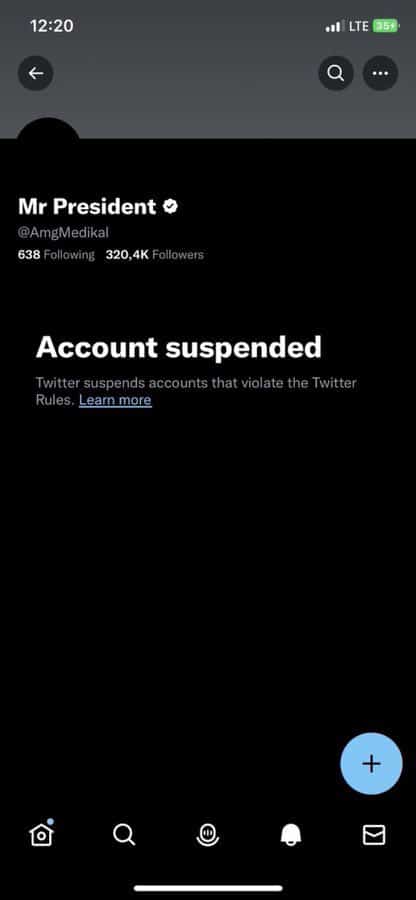 No sooner was he reported by some folks on Twitter than his account was suspended.
Medikal was used as a scapegoat by the platform especially when they have taken serious steps against impersonation and the misrepresentation of people and brands by others.
Many have been reacting:
Don Sarkcess wrote: If you give Elon Musk chance, he go use you do escape Goat. Medikal committed himself y'all need to free Beno cos he was joking
Headless wrote: If you give Elon Musk chance, he go use you do escape Goat. Medikal committed himself y'all need to free Beno cos he was joking
"I want to be like Moesha when I grow up" – JHS student reveals
A JHS girl believed to be just 15 years of age has revealed in an interview that her only dream and aspiration in life is to end up like actress and repented slay queen Moesha Budong when she grows up.
As disclosed by the naive girl, her friends have started addressing her as a slay queen because of the way she dresses and carries herself around.
Explaining why she wants to be like Moesha, she detailed that she wants to live a luxurious and lavish life, mostly showing off her expensive clothes and cars.
She additionally revealed that she will go in for a Brazilian Butt Lift if he grows just like Moesha did.
Watch the video below to know more…
Haha lol 😂 pic.twitter.com/AEao2OSoST

— Talk To Me Now (@talktomenowtv) November 16, 2022
God has called me – Medikal claims
Following Prophet Festus Kobena Assan's year-old prophecy that if Ghanaian rap artiste AMG Medikla doesn't give his life to Christ, he will be arrested.
Medikal has shared a new post on his Snapchat claiming to have repented.
As asserted by the rich rapper, he has been called by God and has now fully repented and thrown all the worldly things in his life away.
Apparently, Medikal is considering putting an abrupt end to the composition of secular songs and might switch to the making of gospel songs very soon
Just like Saul in the Bible who later became Paul, Medikal has encountered Christ and is now a staunch Christian who won't trade his newly found love in Christ for anything else.
He wrote;
God has called me… King James Version
Second Samuel Chapter 1
Now it came to pass after the death of Saul, when David was returned from the slaughter of the Amalekites and David had abode two days in Ziklag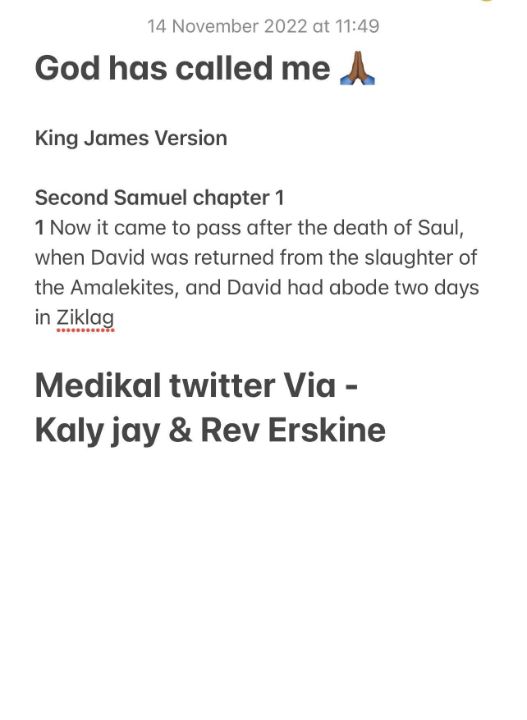 Succeeding Medikal's claims that he has now been called by God, a lot of social media users have opined that he's lying and his repentance isn't genuine.
As submitted by these sceptics, the "Omo Ada" hitmaker is only afraid of suffering the same fate as Hajia4 Real who was arrested on the 11th of this month at an airport in the UK for her alleged involvement in an 8 million USD fraud.
Ibrahim Mahama flaunts the interior and exterior of his private jet
Astute Ghanaian businessman, Ibrahim Mahama has courted massive attention on the internet after a video of him onboard his private jet surfaced online.
Apparently, the CEO of Engineers and planners acquired his private jet late last year and has kept it from the public domain until recently.
In this short yet wholesome video, Ibrahim Mahama was wearing a black jacket and was welcomed at the airport by a white man believed to be a member of the flight crew.
He hurriedly entered the jet as he appeared to be late to where ever he was going.
Citing the video, Ibrahim Mahama's private jet is ashy in colour, with a brown-themed interior and enough space for comfort and relaxation.
Check the video below to know more…
Ibrahim Mahama flaunts the interior and exterior of his private jet#GRAMMYs #FidoQuickLoans #Stonebwoy pic.twitter.com/htPRfnLnOw

— Talk To Me Now (@talktomenowtv) November 15, 2022